Our babies need your help.  Please take a look at the list below to see if you have any of these items you no longer need and or on your next trip to the store maybe you could pick up a few of these items to donate to our babies in need.
Thank you for your generosity.
Drop-off during Coffee Shop business hours or email us to schedule a pick-up.
Open:
Mon. 4 pm – 7 pm
Wed. 4 pm – 7 pm
Sat. 9 am – Noon
505 N Powell Pkwy Anna, TX, 75409
(469) 237-4129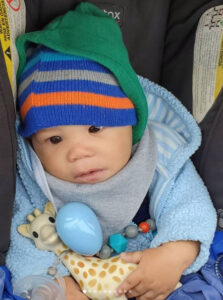 Baby Ministry Donation Needs
Needs may change based on supply and demand
New and Gently Used:
Maternity clothes
Bibs
Burp cloths
Bottles
Blankets
Swaddles
Crib sheets
Diaper caddies
Nursing covers
New
Diapers newborn – size 6
Pull-ups 2T-5T
Wipes
Diaper rash cream
Baby lotion
Baby body wash/shampoo
Pacifiers
Bottlebrushes
New
Non-expired, unopened formula (please no formula that will expire within 2 months)
Jars of baby food
Gerber baby oatmeal
Grooming kits (ex. Safety 1st Deluxe Healthcare and Grooming Kit)
Childproofing kits (ex. Safety 1st Safety Essentials Childproofing Kit)
Lanolin nipple cream
Nursing pads
Larger Items – New
Breast pumps
Larger Items – New or Gently Used
Diaper bags
Nursing pillows
Baby-wearing carriers/wraps
Bottle sterilizers
Bottle drying racks
Bottle dishwasher baskets
Bottle warmers
Baby monitor sets
Pack n' Plays